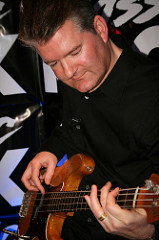 Photo by Stephen Dyrgas
Bass guitars are often considered easier to play because they typically have fewer but heavier strings. Bass guitars are similar to regular guitars, but with fewer strings that are thicker in gauge. Unlike acoustic guitars, bass guitars are typically electric since it would be impractical to carry around an acoustical bass guitar Learning to Enjoy Bass Guitar - Do you enjoy bass guitar? A bass guitar is a four-stringed instrument that typically accompanies a lead guitar. Some bass guitars have additional strings, with 5 or 6 strings in total. Bass guitars produce lower tones, and an electric bass guitar is connected to an amplifier for enhanced sound. When learning to play the bass… everywhere you go.
Bass guitars are a great addition to any band, but contrary to popular belief, bass can be played solo and can create an impressive instrument to listen to on its own. Bass guitars provide a deep and resonant sound that supports the musicians and adds an extra layer to the performance.
Bass players often develop thicker calluses on their fingertips due to the density of the strings and the repetitive tapping during practice. Beginners in their early years of learning …
...Read the rest.
"Bass Guitar Lessons"