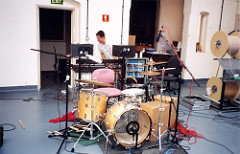 Photo by Sumlin
Have you ever dreamed of being part of a music band A Finnish music story - Musician Matti Mattila wrote his story for us, a Finnish music story! Please read also his Finnish blog and check his page at LinkedIn. I named this article "A Finnish music story" because through Matti words we can know an exclusive tale about late 70's and 80's of Finnish music. Of course the personal thoughts… ? Do you aspire to become the drummer of your dream band but are still a beginner? Then a beginner drum set is the perfect instrument for you. There are many beginner drum sets available at local music stores and online music stores. You just need to decide on the brand of drum set you would like to purchase.
Find an Affordable Beginner Drum Set Online!
A professional drum set can cost you thousands of dollars, which is unnecessary for a beginner. When browsing through a music store, whether online or not, look for beginner drum set kits that already include everything in one package.
The drum set package typically includes a five-piece drum set, cymbals, sticks, and all the necessary hardware, including the drum throne …
...Read the rest.
"A Beginner's Drum Set: The First Step to Becoming a Pro Drummer!"