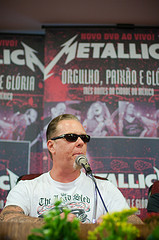 Photo by /amf
James Alan Hetfield's father, Virgil, left the family at an early stage, while his mother's name was Cynthia. He has a younger sister and two half-brothers. Hetfield's ancestry includes German, English, Irish, and Scottish roots. He was born on August 3, 1963, in Downey, California.
This renowned rock A Finnish music story - Musician Matti Mattila wrote his story for us, a Finnish music story! Please read also his Finnish blog and check his page at LinkedIn. I named this article "A Finnish music story" because through Matti words we can know an exclusive tale about late 70's and 80's of Finnish music. Of course the personal thoughts… star began learning the piano at the age of 9 and picked up the guitar at fourteen. Somewhere in between, he also learned to play the drums. Music became an outlet for him after his mother passed away when he was sixteen, and he played with numerous local bands.
In the 1980s The Synthpop Era - I'm not one to dwell on the past, but I must admit that music from the synthpop era of the 1980s and surrounding years holds a special place in my heart. Perhaps I'm …
...Read the rest.
"Who Is The Heavy Metal Star, James Hetfield"