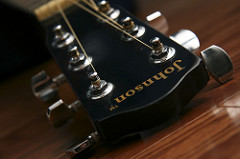 Photo by Jason Alley
Due to its versatility, efficiency, and the fact that it can be used to play any kind of music, the guitar is one of the most popular instruments to learn. Guitar playing is highly enjoyable and well-liked.
Whether you are interested in country, folk About Country Music - For a long time in the 21st century, country music played a minor role within the pop music scene.Shortly after World War II, many new radio stations in urban areas focused primarily on country music, often accompanied by local advertising. In the 1930s, country music's status was consolidated in the mainstream pop music landscape. The… , jazz, rock A Finnish music story - Musician Matti Mattila wrote his story for us, a Finnish music story! Please read also his Finnish blog and check his page at LinkedIn. I named this article "A Finnish music story" because through Matti words we can know an exclusive tale about late 70's and 80's of Finnish music. Of course the personal thoughts… , or any other musical genre, learning to play the guitar gives you the opportunity to play and perform your favorite songs and even create your own music.
However, like …
...Read the rest.
"Guitar Playing – Uncover What Exactly Makes It Trendy"