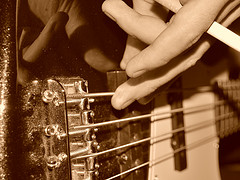 by
guki92
So you've just decided to play the bass guitar Learning to Enjoy Bass Guitar - Do you enjoy bass guitar? A bass guitar is a four-stringed instrument that typically accompanies a lead guitar. Some bass guitars have additional strings, with 5 or 6 strings in total. Bass guitars produce lower tones, and an electric bass guitar is connected to an amplifier for enhanced sound. When learning to play the bass… . Excellent choice of instrument. While others may easily overlook the role of the bass in shaping melodies, it doesn't mean it exists merely to make the band's sound a bit fuller. In fact, that purpose alone is a testament to the instrument's importance: without it, the music created would sound thin and lacking.
The bass, along with the drums, is the keeper of rhythm. It helps establish the pulse of the song, and without that pulse, not only would the composition be bland and lifeless, but it would also be less appealing to the listener. Isn't it true that the opening notes of Queen's "Another One Bites the Dust" make you tap your foot and nod your head to the music?
Sounds intriguing, right? You're probably even …
...Read the rest.
"Bass Guitar Lessons For Newbie Bassists"