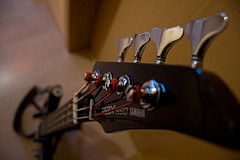 by
andreas.nowak1986
Recording and mixing Music Production - Improve Your Sound - The rise in popularity of work-from-home studios has significantly impacted the music production landscape in recent years, driven by the increasing availability of tools and technology. This growth has led to the emergence of mobile recording rigs, making it possible to record full band performances anywhere. While one might anticipate a wealth of high-quality music,… bass guitar Learning to Enjoy Bass Guitar - Do you enjoy bass guitar? A bass guitar is a four-stringed instrument that typically accompanies a lead guitar. Some bass guitars have additional strings, with 5 or 6 strings in total. Bass guitars produce lower tones, and an electric bass guitar is connected to an amplifier for enhanced sound. When learning to play the bass… is often overlooked, but it plays a crucial role as the backbone of a song. Here are some tips that I (CJ Jacobson) have learned over time:
Direct Recording:
Active pickups: If your bass has active pickups, you can plug directly into the input of your sound card/interface.
Passive pickups: For basses with passive pickups (the most common type), you'll need a DI box or an external amp simulator like
…
...Read the rest.
"How To Record A Bass Guitar"