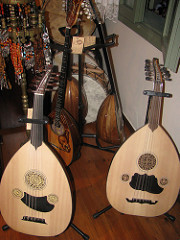 Photo by eltoro80
Exotic instruments bring a unique flair and flavor to many types of musical compositions. They can add authenticity to a piece, capturing the essence of a specific time or region. Moreover, they can produce sounds that are not achievable with a standard repertoire of instruments. Three examples of such instruments include the oud, the saz, and the hurdy-gurdy.
The oud is predominantly used in Middle Eastern and North African music. It is a stringed instrument believed by some to have been invented by the grandson of Adam from the Bible. Pictorial evidence dating back over 5000 years has been discovered and is displayed in museums worldwide.
The history of the oud is rich in Mesopotamia, with almost every historical Middle Eastern or Mediterranean civilization incorporating it into their musical traditions. The ancient oud has transformed into the modern version used today. While it exhibits regional variations, certain features remain consistent, such as its eleven strings, fretted neck, and signature bowl-shaped body that enhances resonance.
The saz, also known as the baglama, is popular in the Near East, Central Asia, and the Eastern Mediterranean. It is commonly employed in Turkish music and is the most recognized stringed folk…
...Read the rest.
"Exotic Instruments For Authenticity And Style"