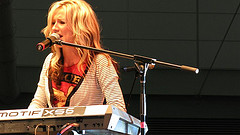 Photo by williamhartz
If your objective The Importance of Having a Goal in Life and Why Music is a Harmonious Objective - Having a goal in life is essential for many reasons. It provides a sense of direction, drives motivation, enhances focus, and contributes to personal satisfaction. An aim or target in life helps one to streamline their energy, thoughts, and efforts towards achieving something specific. Without an objective, life can feel aimless and unsatisfying, and individuals… is to have a centered voice and achieve effortless performance while singing, learning to have a relaxed or better known among singers as a "released" diaphragm is the way to accomplish this. It is not uncommon for first-time singers who seem to have large lung capacity and relaxed diaphragms to freeze up at the last moment. They should not be worried as there is nothing wrong with the diaphragm, but it may not function effectively for various reasons, which we will discuss here.
Getting through an entire song can be a challenge for any singer, especially if they are using incorrect breathing techniques, which can be distressing for those unaware of it. Even with superior breathing technique, singers may find that the demands …
...Read the rest.
"Music And Singing Tips – The Diaphragm Is The Source Of Vocal Power"