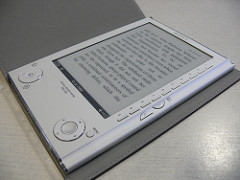 Photo by shimgray
For Kindle owners, the allure of getting their hands on the latest Kindle from Amazon is quite enticing, especially with the new features that come with the 3rd generation Kindle. Additionally, there are parents with children who are heading off to university and would like to give them a nice going-away gift. Well, there's nothing better than a Kindle eBook reader as a gift for students, especially now that Amazon's Kindle has become more affordable than ever before. In fact, from its original price of $258, the 3rd generation Kindle is now down to just $139. You were looking for the best deal? Well, here it is.
If you ask your son what kind of gift he wants before heading off to university, he might ask for a car. Well, who wouldn't? But for those of us who are mere mortals, the Kindle 3 is the next best thing. If you already have the original Kindle or the Kindle 2, then you are probably itching to trade-in your Kindle for the latest 3rd generation Kindle, considering the new features that this new model has to offer. And the affordability doesn't hurt either.
The Amazon 3rd generation Kindle …
...Read the rest.
"Amazon's Kindle 3 Price Offerings"