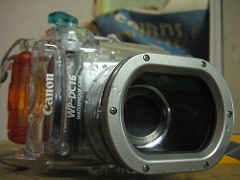 Photo by Paleontour
Nowadays, there is a wide variety of cameras available for capturing photos. Not only are there different digital cameras on the market, but there are also various types to choose from. Some cameras are point-and-shoot models, while others offer users more control over their photography.
One of the recent developments in camera technology is the emergence of waterproof models. These cameras are perfect for capturing memorable moments at the beach or in water-related activities. Here are some tips on how to find the best waterproof digital cameras at the most affordable prices.
A good starting point when searching for waterproof digital cameras is a department or electronics store. Here, you can see different models in person and talk to sales representatives about the features and capabilities of each camera. This allows you to have a hands-on experience and get a better idea of what options are available. Additionally, local stores often have promotions and special deals, so you may be able to find a great bargain by visiting a nearby department or electronics store.
Another option is to explore the internet for more choices. Online, you can browse through stores worldwide to find the best possible camera. …
...Read the rest.
"Where to Shop for the Best Waterproof Digital Camera"