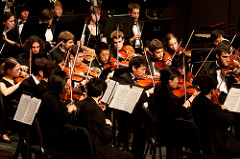 Photo by Courtarro
Is traditional music perishing? This question is not uncommon among those who follow the developments in the music industry What Is A Musician? - For some individuals, the role of a musician may be difficult to comprehend. They may struggle to understand: 1 - the nature of a musician's talent or job, 2 - why musicians work around the clock, and 3 - the concept of a fanbase and the boundaries musicians set with fans. Let's delve into each… . The decline in the genre's popularity is not surprising, as it has been overshadowed by numerous other styles worldwide. Traditional music, which once held a significant impact, now struggles to maintain its influence.
Historically, traditional music has been perceived as an elitist form, primarily enjoyed by the upper echelons of society. This exclusivity has hindered its commercial success compared to other genres, as it lacks the adaptability needed to appeal to a broader global audience.
Contemporary composers often do not receive the same level of respect and admiration as classical greats like Mozart, Beethoven, or Bach. While it is true that these legendary musicians may never be surpassed, it does not mean that each generation should not …
...Read the rest.
"Is Classical Music Dying In Our Times"