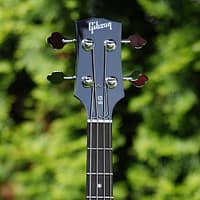 A bass guitar Bass Guitar Pedals Are Effective - Guitar Pedals: Roland GR-55GK Bass guitar pedals work wonders, practically speaking. Effects pedals for electric bass guitars are excellent for bassists looking to take their playing to another level while having fun experimenting with a wide range of different sounds. In the past, effects pedals, or stompboxes as some like to call them, were made exclusively… is a four-stringed instrument that typically accompanies a lead guitar. Some bass guitars have additional strings, with 5 or 6 strings in total. Bass guitars produce lower tones, and an electric bass guitar is connected to an amplifier for enhanced sound.
When learning to play the bass guitar, keep in mind that it is played by plucking the strings with your finger or thumb. Plucking refers to the action of drawing or tugging the string. More experienced musicians often use a "pick" for plucking. For beginners, using your fingers is fine. Some bassists employ "slapping" when playing a tune to add a percussive effect. Fretting and the "mute technique" are also utilized.
Another aspect to consider when …
...Read the rest.
"Learning to Enjoy Bass Guitar"