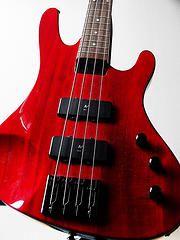 by
mcmrbt
Ibanez electric guitars are among the most renowned instruments in the market. Their popularity spans the globe, not only for their exceptional sound quality but also for the ease with which they can be played. Electric guitars require amplification due to the typically weak signal that cannot be captured by a standard loudspeaker. These guitars are ideal not only for the classic rock sound expected from such powerful instruments but also for jazz musicians seeking to amplify their sound.
Features of Ibanez Electric Guitars
Ibanez electric guitars come in various shapes and styles, with distinct designs for each instrument that reflect the type of music it is meant to play. While these guitars excel in producing a rock sound, many models are also perfect for the jazz genre. The guitars' bodies are designed to support the specific genre they cater to. For instance, the RG series by Ibanez features characteristics and finishes that make it ideal for producing the effects and tuning demanded by rock artists. Each guitar has its unique sound that can be played on their slim necks.
Reviews on Ibanez Electric Guitars
The sound of an Ibanez electric guitar How to Buy a Guitar - …
...Read the rest.
"Ibanez Electric Guitars"