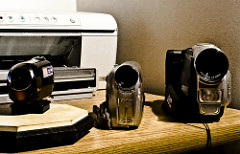 Photo by Gamma-Ray Productions
There has never been a better time to be an amateur filmmaker. Advances in film recording technology have made it possible for ordinary people to have access to the kind of equipment that was once only in the hands of Hollywood professionals. If you're interested in taking your film recording to the next level and considering purchasing a 3CCD Mini DV camera, choosing the right camera can be a bit challenging, as many manufacturers claim that their camera is superior to all others for one reason or another.
To determine which 3CCD Mini DV camera is right for you, you will need to consider several features and compare them side by side among the different available models. If you're interested in shooting a lot of footage featuring wildlife and birds, you might want to consider buying a camera with high-quality optical zoom. Almost every camera on the market has a digital zoom, but many experts agree that optical zoom is preferred. Another factor to consider if outdoor shooting is your passion is whether the camera has any shock, dust, or water resistance.
If your main focus The Importance of Having a Goal in Life and Why …
...Read the rest.
"3CCD Mini DV – Portable Movie Magic"