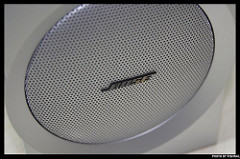 Photo by Fishtail@Taipei
If you're an audiophile, you've probably come across discussions about Bose 301 speakers at some point. Whether it's in a home appliance center, overheard from your neighbors, or mentioned in an online forum, these speakers have made an impact. If you want to know more about them, this review can help. The Bose 301-V Stereo Loudspeakers are a remarkable set of speakers worth knowing about.
General Description
This speaker set consists of two main speakers and rubber feet, and that's all you get – no more, no less. This means you'll need to purchase your own speaker cable to connect the set to your audio component system or home theater setup. It can be a hassle if you've already gone through the trouble of acquiring other components, but if you know what you need, you can purchase everything together. However, it's important to note that these speakers come with a higher price tag, and buying additional wiring can add to the cost. If budget is a concern, this model may not be the best fit for you.
However, considering the price, these speakers are truly worth every penny. The Bose 301 speakers deliver a fabulous music-listening experience, …
...Read the rest.
"Bose 301 Speakers: A Review of the Bose 301-V Stereo Loudspeakers"