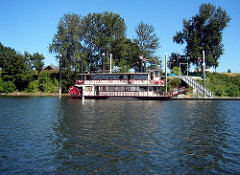 Photo by receive straight down
The World's Fair, also known as the Exposition (Expo), is a large-scale public event held in various locations around the world. It serves as a platform for participating nations to showcase their culture and people. The first Expo took place in London, England in 1851 and was named the "Great Exhibition of the Works of Industry of All Nations." New Orleans has hosted the World's Fair twice, first in 1884 and then again 100 years later in 1984.
1884:
During this time, New Orleans was home to the Cotton Exchange and the Cotton Planters Association, and one-third of all cotton in the United States was produced in Louisiana. Hence, the fair was named the World Cotton Centennial. The name refers to the earliest recorded cotton export from the US to England, which dates back to 1784. Although New Orleans was a relatively affluent city at the time, the US Congress loaned $1 million to the organizers. An additional $300,000 was allocated for the construction of a display for the US government. Unfortunately, the state treasurer fled the country with over $1.7 million, leaving the fair with a depleted budget. Eventually, additional funds were secured, and …
...Read the rest.
"1884-1984: The History of the World's Fair in New Orleans"