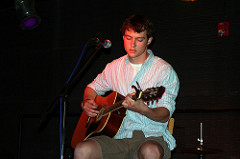 Photo by hectorir
Every so often, we decide to explore a new aspect of playing the guitar that many people are either afraid of or simply have no idea about. Today, we're going to tackle one of the more intimidating topics in guitar playing… Transposition.
Join us as we teach you the most simple and convenient methods to transpose your music.
Getting That Riff in Your Favorite Key!
How many times have you come up with a riff that you absolutely love Artists Psychology - Here's an interesting exclusive article Roland d'Humières, 56 years old psycho-analyst from Aix en Provence (France) has written for our Weblog. I think it to be a very interesting writing about the artists psychology, or maybe "arts psychology", what's behind an artists mind. Artists Psychology Whatever is his/her Art, painting, music, dance, writing, or any… , or discovered a song that you enjoy playing and wanted to incorporate it into a new, original piece? Chances are, we've all wanted to give it a try at least once or twice but always encountered one roadblock… Keys.
As mentioned in our previous post, the likelihood of two riffs being in the same key is low if you're …
...Read the rest.
"Lead Guitar Transposition Tips and Techniques"