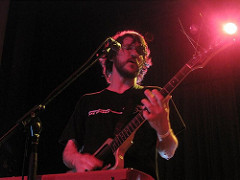 Photo by Mike White | Deadlydesigns.com
The lead guitar is a crucial element in a band, often responsible for guitar solos, instrumental fill passages, and melody lines within a song. The lead guitarist is the featured player, frequently performing double-stops or single-note-based lines.
In rock A Finnish music story - Musician Matti Mattila wrote his story for us, a Finnish music story! Please read also his Finnish blog and check his page at LinkedIn. I named this article "A Finnish music story" because through Matti words we can know an exclusive tale about late 70's and 80's of Finnish music. Of course the personal thoughts… , heavy metal, blues, jazz, fusion, certain pop, and other music genres, the lead guitar is commonly supported by another guitarist who plays rhythm guitar. The rhythm guitar involves playing accompanying chords and riffs, often with distortion Ibanez Electric Guitars - by mcmrbt Ibanez electric guitars are among the most renowned instruments in the market. Their popularity spans the globe, not only for their exceptional sound quality but also for the ease with which they can be played. Electric guitars require amplification due to the typically weak signal that cannot be captured by a standard …
...Read the rest.
"Guitar Playing Style – Just What Does It Take To Play The Lead Guitar?"