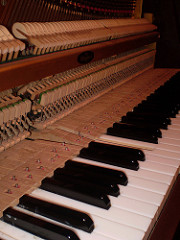 Photo by Elsie esq.
Piano chords have the power to bring music to life An Artist Portrait (Part Two) - This is the Part Two (and final part) of the true life story as artist written by Frank V. Cahoj for our Weblog. (Part One) An Artist Portrait (Part Two) I give an unbelievable amount of credence to these two early periods in my life: one of everlasting creation, one of analysis and disillusionment. The… . If you have been practicing scales and gradually grasping the basic principles of piano music, chords will elevate your playing to another level.
When you first start playing the piano, it is important to practice a variety of simple tunes and exercises, including scales, to become familiar with playing sequences of individual notes. These exercises primarily consist of playing single notes. By engaging in exercises like these, you develop an understanding of the sounds produced by your instrument and become familiar with the melodies of the pieces you play.
When chords are introduced, a piece of music undergoes a transformation from a simple outline to a much richer and layered arrangement of sound textures. Chords introduce harmony into music, and it is the effects …
...Read the rest.
"Piano Chords: How To Play Piano With Harmony"