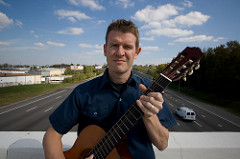 Photo by Dave Delaney
The guitar is considered one of the most rewarding instruments in the world, captivating people for decades. It is highly portable, produces a wonderful sound, and can be used to accompany various types of music. If you're interested in learning to play the guitar, continue reading for five fundamental principles to keep in mind Self-realization and meditation (yoga for the mind) - Peter Cajander allowed us to publish this part from his book Fragments of Reality. It talks about life from a personal perspective covering areas ranging from self-realization, meditation, stress, happiness, death, and everyday living. Peter is a writer, philosophical thinker, entrepreneur, strategy consultant, business executive, and author to name a few titles. He has been… during this endeavor.
When teaching yourself how to play the guitar, there are several basic principles that you should remember. Firstly, it's important to practice daily for at least an hour. It may seem boring at times, and you might even struggle to find the time, but if you make an effort, you will definitely see results.
Secondly, try to stay motivated no matter what happens. There will undoubtedly be instances when things don't go as planned and it …
...Read the rest.
"Five Basic Principles Of Learning Guitar"