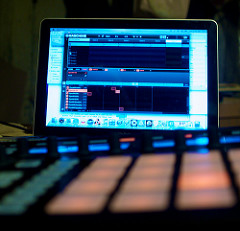 Photo by matt.searles
Music plays a significant role in the daily lives of individuals, often without them realizing it. When watching a movie, music sets the tone and mood for each scene. A favorite song on the radio can change your mood, taking you back to cherished memories or reminding you of someone special.
This is why it is said that music is a part of everyday life An Artist Portrait (Part Two) - This is the Part Two (and final part) of the true life story as artist written by Frank V. Cahoj for our Weblog. (Part One) An Artist Portrait (Part Two) I give an unbelievable amount of credence to these two early periods in my life: one of everlasting creation, one of analysis and disillusionment. The… – it is powerful and transcends time.
Those with musical talent and creativity An Artist Portrait (Part One) - This is a fantastic article written exclusively for my Weblog by Frank V. Cahoj. Please feel free to comment here or send him emails. He'll be happy of this. An Artist Portrait (Part One) My name is Frank Cahoj and I have been an artist since I was born. I can say this …
...Read the rest.
"Where To Learn About Music Production"