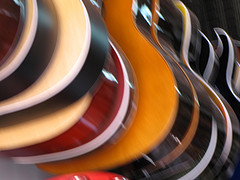 Photo by momentcaptured1
Acoustic guitars belong to the lute family of musical instruments, characterized by their smooth, waisted shape, round sound hole, and fretted neck with six strings. The strings are fastened to tuning pegs at the top of the neck and to a bridge attached to the instrument's soundboard. The top three strings are typically made of gut or nylon, while the remaining strings are made of metal. The strings are tuned E A d g b e1 (E = second E below middle C; e1 = E above middle C). The player's left-hand fingers stop the strings at the appropriate frets to produce the desired pitches, while the right-hand fingertips pluck the strings. Some metal-strung guitars are plucked using a small flat plectrum or pick.
Guitars can be constructed or customized to accommodate the needs of both left-handed and right-handed players. Traditionally, the dominant hand is typically assigned the task of plucking or strumming the strings. For most people, this involves using the right hand. This is because the musical expression (dynamics, tonal variation, color, etc.) is often determined by the plucking hand, while the fretting hand is responsible for the mechanical task of depressing and gripping the …
...Read the rest.
"How to make your own Guitar?"