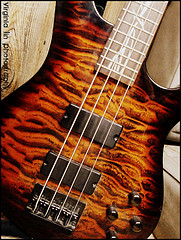 by
Virginia Lin Photography
If you're wondering how to learn to play the guitar, let me assure you there are several ways for you to master this skill.
You can opt for the traditional method – private guitar lessons. You can enroll in guitar summer classes or workshops in your area. Reading instructional music books and chord sheets can help too. You could also ask a friend to teach you. And, of course, there's the internet. Online, you'll find numerous websites, blogs, and videos that offer step-by-step beginner's guides on how to learn to play the guitar, like this one.
Let's start with the basics – the parts of a guitar. A guitar has 5 main components, namely:
Body: the large 8-shaped mass with a hole in the center
Bridge: the vertical line between the edge of the body and the hole, where all six strings are attached
Neck: the long horizontal wood Learning to Enjoy Bass Guitar - Do you enjoy bass guitar? A bass guitar is a four-stringed instrument that typically accompanies a lead guitar. Some bass guitars have additional strings, with 5 or 6 strings in total. Bass guitars produce lower tones, and an electric bass guitar
…
...Read the rest.
"How exactly to Learn to have fun with the Guitar"