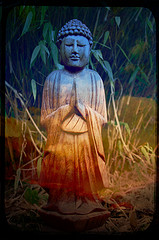 Photo by AlicePopkorn
Sound and music have a tremendous impact on the body and mind, and this fact is well-documented. Music is often chosen as a means to activate our inner vitality and is utilized in various mind-body programs. However, don't worry if you're unsure about what type of music you should listen to in order to achieve your goals. I will explain how the power of sound can transform your life An Artist Portrait (Part Two) - This is the Part Two (and final part) of the true life story as artist written by Frank V. Cahoj for our Weblog. (Part One) An Artist Portrait (Part Two) I give an unbelievable amount of credence to these two early periods in my life: one of everlasting creation, one of analysis and disillusionment. The… .
While there is much we still don't know about music and its effects on the body, we have some understanding of the mechanisms through which sound can bring about positive changes. For instance, it can reduce levels of stress Self-realization and meditation (yoga for the mind) - Peter Cajander allowed us to publish this part from his book Fragments of Reality. It talks about life from …
...Read the rest.
"Listening To These Sounds Can Improve Your Life"