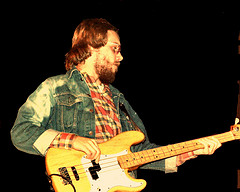 Photo by Affendaddy
Learn how to manipulate and shape your sound in a way that sets you apart from the rest of the crowd. We will provide some great tips on how you can make some simple adjustments that will give you a very unique style.
First and foremost, be yourself. Who are you as a guitarist?
We've all had moments where we wished we had the skill and sound of another guitarist. For some of us, this comparison happens daily and can either motivate us to work harder or leave us feeling discouraged. Unfortunately, the reality is that 95% of us will never sound exactly like our heroes. Why? Simply because we don't have the same time, resources, or natural abilities as they do. This may sound harsh, but it's actually a good thing when put into the context of our own playing. Anyone can pick up a tab book For Game Design - Andrea Angiolino was born the 27th of April, 1966 in Rome, the city where he still lives. He published many boardgames and books about games, besides developing games for every media. His works appeared in more than a dozen of languages including Korean, Czech and Maltese. He is a game journalist on national magazines, newspapers,… and play a song, but it takes a true guitarist to make it their own.
If you take the time to study some of your guitar heroes today, you'll notice that they developed their own unique style by integrating techniques from other guitarists and blending them together. Many of …
...Read the rest.
"Guitarists: Find Your Own Identity and Guitar Playing Style"