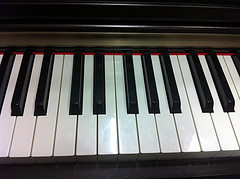 by
Sean MacEntee
Learning to play the piano and read sheet music doesn't have to be intimidating. You don't need an exceptionally high IQ for this; all you need is perseverance and consistent practice, along with an easy-to-read piano sheet. By following some guidelines, learning can become easier. Here are some tips to help you as you gradually learn to read piano music:
Start by taking a quick look at the music sheet in its entirety to get a general sense of the piece.
Go over the music sheet a second time, focusing on notes, tempo indications, articulations, and chords. Pay extra attention to difficult notes and flag them for future reference.
Study the key and time signatures of the piece. Consult music books if you're unfamiliar with these signatures, as they are essential for understanding the music.
Look for significant changes in the piece, including tempo changes and key changes. Identify these changes and familiarize yourself with the new keys.
Search for common passages in the music piece. Determine if there are repetitions of themes or phrases. Familiarize yourself with the basic passages to help you learn variations more quickly.
Most importantly, play the music piece continuously, especially for
…
...Read the rest.
"How To Read Piano Piece Music Fast"