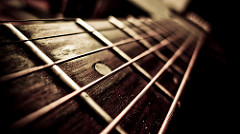 Photo by Josh Liba
Do you have a secret desire to learn the guitar and play in a band? Well, why not start learning how to play the guitar right now? It's as good a time as any, and it doesn't matter how old you are. Anyone can start; all you need is determination and some good guitar lessons for beginners.
The beautiful sound of this classic stringed musical instrument has been captivating people for decades, with its origins tracing back to the fifteenth century in Spain. Throughout history, musicians have used their guitar playing to create wonderful melodies that carry messages, shaping entire eras, influencing social change, connecting people, and healing Painting: A Spiritual Pathway to the Divine - In a world increasingly driven by technology and fast-paced living, the art of painting provides an oasis of calm and introspection. It allows both the artist and the observer to delve deep into a realm often considered transcendental. For many, painting serves as a bridge to the divine, a medium through which spirituality is explored… troubled minds.
Even as music evolves and more digital instruments are used, the guitar still has a place in popular music bands, and it seems …
...Read the rest.
"Guitar Playing – The Great Guideline For Playing The Guitar Intended For All Rookies"