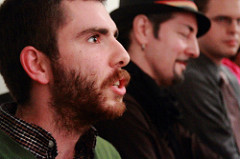 Photo by uniondocs
Thanks to the innovations of our time, many individuals and companies are reaping numerous benefits, particularly in the film industry. Movies are being produced with exceptional quality and impressive special effects. Any flaws may only be noticeable to the film's crew, but not to the eyes of the avid moviegoer.
Speaking of movies, most people love Artists Psychology - Here's an interesting exclusive article Roland d'Humières, 56 years old psycho-analyst from Aix en Provence (France) has written for our Weblog. I think it to be a very interesting writing about the artists psychology, or maybe "arts psychology", what's behind an artists mind. Artists Psychology Whatever is his/her Art, painting, music, dance, writing, or any… to read reviews about a particular film. A review typically includes insights from those who have already watched the latest movies. For those fortunate enough to have seen a film before its theatrical release, they may provide some spoilers to leave the upcoming viewers intrigued and eager. There are various sources for film reviews. Here are some common outlets where you can find film reviews:
Internet – As we all know, the internet has virtually everything we desire. From clothing, shoes, and gadgets, …
...Read the rest.
"Three Good Sources Of Movie Opinions"