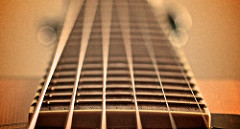 Photo by Jeremy Jenum
Learning the guitar is not easy, especially if you lack musical aptitude or struggle with finger movements. However, instead of investing hours in guitar lessons, why not impress others by mastering Music Production - Improve Your Sound - The rise in popularity of work-from-home studios has significantly impacted the music production landscape in recent years, driven by the increasing availability of tools and technology. This growth has led to the emergence of mobile recording rigs, making it possible to record full band performances anywhere. While one might anticipate a wealth of high-quality music,… an easy guitar song? By finding an easy guitar song to learn and practicing it until it becomes second nature, people will be amazed by your skills that they didn't know you possessed.
You can even use an easy guitar song to impress someone of the opposite sex. Whether your goal The Importance of Having a Goal in Life and Why Music is a Harmonious Objective - Having a goal in life is essential for many reasons. It provides a sense of direction, drives motivation, enhances focus, and contributes to personal satisfaction. An aim or target in life helps one to streamline their …
...Read the rest.
"An Easy Guitar Song To Learn"