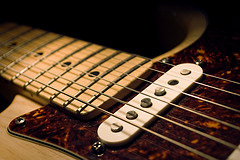 Photo by guynamedjames
Music is an integral part of our lives, and it seems that there isn't a single person who didn't have the desire to play a musical instrument while growing up. Many individuals started with a guitar and taught themselves how to play, eventually even composing their own songs.
When acquiring your first guitar, it can be challenging to determine which type of guitar to choose. The decision should depend on the genre of music you love Artists Psychology - Here's an interesting exclusive article Roland d'Humières, 56 years old psycho-analyst from Aix en Provence (France) has written for our Weblog. I think it to be a very interesting writing about the artists psychology, or maybe "arts psychology", what's behind an artists mind. Artists Psychology Whatever is his/her Art, painting, music, dance, writing, or any… . It's crucial to play music that you enjoy; otherwise, you may lose interest. Acoustic guitars are primarily associated with folk and country music About Country Music - For a long time in the 21st century, country music played a minor role within the pop music scene.Shortly after World War II, many new radio stations in urban areas focused primarily on country music, …
...Read the rest.
"Acoustic And Electronic Guitars"