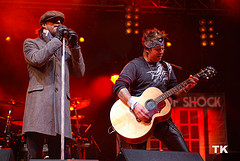 Photo by Tsar Kasim
There's no doubt about it, the guitar is considered one of the greatest musical instruments in the world. Its beautiful sounds can captivate people for hours, and its versatility makes it suitable for any genre of music. If you're interested in becoming a better guitar player, here are some things you should know.
First and foremost, you need to ensure that you have the right resources to help you improve your skills. Ideally, you should experiment with a teacher; however, not everyone has that opportunity, so you may have to explore other options. For example, you can do some online research and find specialized websites and forums that deal with guitar-playing techniques. There, you can connect with people who share the same interests as you and exchange tips and techniques.
Another important aspect to consider is your "game plan." This means having a clear idea of what you want to learn and why. If you simply want to play for fun, learning a few chords and basic skills may be enough. However, if you aspire to pursue guitar playing professionally, you may want to delve into more advanced topics and even study some aspects of music …
...Read the rest.
"How To Become A Better Guitarist?"