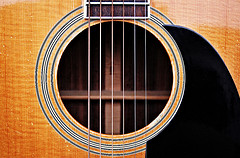 Photo by dcosand
Guitar chords are formed when a combination of at least three or more notes are played simultaneously. They create harmonious sounds by pressing down specific notes on all strings together or on a combination of individual strings.
In popular music, the most commonly known instruments have six strings. Each string is tuned from the lowest pitch to the highest pitch, designated with the letters E-A-D-G-B-E. The thinnest string has the highest pitch and is called the first string, while the thickest string has the lowest pitch and is designated as the sixth string.
Some players use a finger slide to transition between pitches easily. The intervals between most strings are tuned to perfect fourths, except for the interval between the second B string and the third G string, which forms a major third.
In heavy metal and hard rock music A Finnish music story - Musician Matti Mattila wrote his story for us, a Finnish music story! Please read also his Finnish blog and check his page at LinkedIn. I named this article "A Finnish music story" because through Matti words we can know an exclusive tale about late 70's and 80's of Finnish music. Of course …
...Read the rest.
"Fundamental Components Of Guitar Chords"