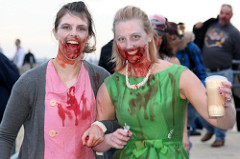 Photo by Stinkie Pinkie
A zombie is a fictional character depicted in films as a reanimated or undead corpse. Early zombie movies were classified under the horror genre, but eventually, zombies became popular and developed their own subgenre. Zombies in fiction often involve elements such as plot twists, an apocalypse or societal breakdown, and, of course, flesh-eating corpses. The top five zombie films of all time span science fiction and comedy.
The film that started it all, "Night of the Living Dead," is an independently produced thriller created by the renowned George Romero in the late 1960s. The film portrays zombies as slow-walking, mindless beings who rise from their graves with an insatiable hunger for living flesh. The story An Artist Portrait (Part Two) - This is the Part Two (and final part) of the true life story as artist written by Frank V. Cahoj for our Weblog. (Part One) An Artist Portrait (Part Two) I give an unbelievable amount of credence to these two early periods in my life: one of everlasting creation, one of analysis and disillusionment. The… follows a group of seven survivors seeking shelter in a farmhouse as they try to survive the night. George Romero …
...Read the rest.
"The Best 5 Zombie Movies Of All Time"