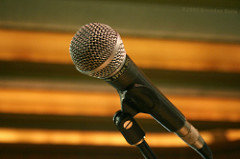 Photo by Brendan Biele
One of the most popular and reliable microphones for sound and music reproduction is the dynamic microphone. Dynamic microphones work similarly to speakers but in reverse. They are ideal for capturing high sound levels from musical instruments or amplifiers and do not require batteries or external power. They also do not have an internal amplifier. Dynamic microphones are commonly used for guitar amps, drums, and as backup for vocal sound. In fact, they are suitable for general use.
To understand how dynamic microphones work, we can think of them as reverse floor monitors. While stage speakers convert electrical data into sound waves, microphones perform the opposite function. Although many microphones follow the same principle, dynamic microphones excel in their execution.
The basic principle behind dynamic microphones is the concept of electromagnetic induction. Moving a magnet near a coil of wire generates an electrical current. Dynamic microphones utilize this principle to convert sound into electrical data. A diaphragm is connected to a coil of thin wire, which is positioned within the magnetic field of the magnet. As sound waves cause the diaphragm to vibrate, the coil moves back and forth within the magnetic field.
The movement of …
...Read the rest.
"Understanding Dynamic Microphones"