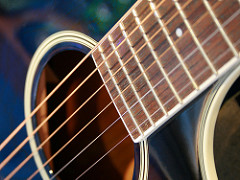 Photo by Jorge Franganillo
Anyone who has ever taken instrument lessons has likely dreamed of playing music by ear. The first step is learning to play your favorite songs. This is easily achievable as there are music sheets and tablature available for almost any song you can think of. The next step is playing a new song you hear on the radio without the aid of music sheets or tablature. At first, this may seem challenging, but it's like any other skill you've learned—you just need to practice and master it.
Playing the guitar requires the coordination and synchronization of both hands. It's crucial to have fine control over your left hand fingers as they need to move smoothly across the fretboard to press the correct strings on the right frets. It takes a lot of practice, but with time, you will improve. Playing chords on an acoustic guitar How to Buy a Guitar - The guitar is known for its dynamic and unique sound, making it a popular instrument in various genres of music. Whether you're a beginner or someone with a growing passion for guitar playing, here are some top tips for buying a guitar: Seek out advice. …
...Read the rest.
"Synchronize Your Fingers And Ears For Playing The Guitar"