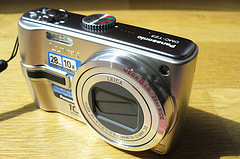 Photo by osde8info
Many people opt for a compact camera instead of a bulky one for several reasons. One reason is that it makes taking pictures much easier. They don't have to deal with a plethora of buttons and complicated settings. Another reason is convenience. A compact camera can fit in your pocket, eliminating the need to carry around a large bag.
These advanced cameras are increasingly popular nowadays and have revolutionized everyday photography. You no longer have to worry about missing precious moments when you have such a device at your fingertips. In terms of quality, these compact cameras offer features similar to their larger counterparts, allowing you to capture great photos just like you would with a big camera.
Here are some models of compact cameras with incredible features:
Fujifilm FinePix F80EXR
Panasonic Lumix DMC-ZS7
Canon SD940
FinePix FUJI F300EXR
Canon PowerShot S90
CoolPix S1000pj Camera
Canon PowerShot S95 Digital Camera
Samsung DualView TL225
Panasonic FX75 Camera
Canon Powershot A1100IS
One great advantage is the ability to instantly share pictures. People who need to quickly capture a snapshot find this device incredibly useful. Another fantastic feature is that these cameras are capable of recording videos as well. In …
...Read the rest.
"Small Digital Camera – What Are Your Options?"