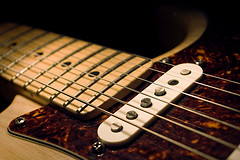 Photo by guynamedjames
If you're interested in learning to play the guitar, you should understand from the beginning that it won't always be easy. Music requires focus, drive, and at least some natural talent Marketing and Music: Is Marketing Really So Powerful That Any Song Can Become Famous? Or Does Talent Still Matter? - Today let's dive into a topic that's been buzzing around a lot: the relationship between marketing and music. We all know that marketing plays a massive role in the music industry, but does it actually hold the power to make any track a hit? Or does talent still stand a chance? First off, let's address… . However, you also need to be aware that no matter how talented you are, you are still susceptible to making mistakes. In the following paragraphs, you will find some of the most common errors made by guitarists so that you can avoid them in the future.
The first and most crucial mistake made by beginners is quitting too early. It may seem like a tempting option at times, especially when your fingers are sore and bruised, but you won't be doing yourself any favors by giving up. Remember that playing …
...Read the rest.
"Frequent Guitar-Playing Mistakes"