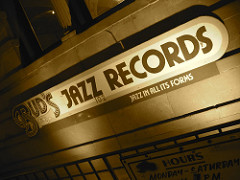 Photo by "CAVE CANEM"
Starting a recording label is a significant and thrilling undertaking. While you may be passionate about sharing your music, it's important to approach your label as a serious business venture.
The first step is to choose a name for your record label. This can be more challenging than anticipated. Look for a name that is unique and has some connection to the genre of music you will be releasing.
Once you have found a name you like, it's time to do some additional research. Come up with alternative names, just in case you discover that someone else already has rights to your chosen name when you go to register with the state department. It's crucial to be prepared with alternatives.
As you start your recording label, you will need to make decisions about how you will run your business. Different types of business entities have different tax regulations and operating procedures. Your options include sole proprietorship, partnership, or corporation. Research each option to determine which one is the right fit for you.
Before obtaining your business license and getting busy, there are several important factors to consider. Developing For Game Design - Andrea Angiolino was born …
...Read the rest.
"Starting a Recording Label – A Successful Recording Label all your Own"