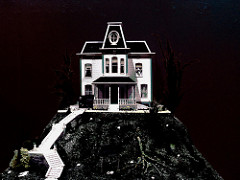 Photo by jlmaral
One fantastic way to spend an evening with friends, regardless of your age, is by watching a few horror movies. Popcorn, laughter, and screams will make for a great time, especially if you have a home theater system.
Many amazing classics have been re-released in high definition on Blu-ray discs, but there are also many available online. You can even create a list and let your friends choose the movies for the evening. Most televisions have internet access, allowing you to watch the movies directly on the TV Cereal, a blend of old and new - Today we interview Jaques Smit, an incredible man. Just read all his current positions: Managing Director at MindNova Advertising Pty (Ltd), Marketing Director at Inland Kitesurfing Pty (Ltd), CEO at Avonstorm Entertainment, Producer at Avonstorm Pictures Pty (Ltd), Technical Director at Blo-Tant Pty (Ltd). Here is the interview and I initially ask about Cereal, his… . Alternatively, you can connect a projector to your PC and create your own mini theater in your living room.
These five movies are a perfect choice for a classy evening of horror films. They are a selection of titles produced over the last half a …
...Read the rest.
"Five Fantastic Horror Movies For A Great Night In"