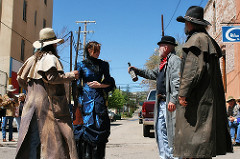 Photo by Avelino Maestas
The initial few pages of a screenplay are crucial as they often determine whether executives or readers become interested in the story. That's why it's important for your screenplay to have a strong and captivating beginning. Here are some proven screenwriting techniques to start your story effectively:
ACTION, ACTION, ACTION – Take inspiration from James Bond films and begin with an action-packed sequence TranceEngine from FeelYourSound - Today we review TranceEngine from FeelYourSound TranceEngine VST and AU plug-in (feelyoursound.com) With this impressive VST plugin you can create Trance sequences to be included in your Trance masterpiece and you will create stunning tracks like my Dream a Trance Music To create the first sequences for your track it's very easy. Let's start from… that may or may not be directly related to the main story. For example, a police detective attempts to arrest drug dealers, leading to a gunfight and a thrilling chase scene.
A REAL BEGINNING – Introduce your hero or heroine as they arrive in a new city at an airport or train station. They may start their first day at a new job in a hot company, and a peculiar and creepy individual moves …
...Read the rest.
"Screenwriting for Authors – How to Begin a Screenplay"