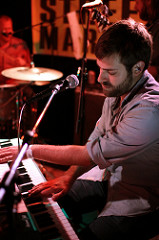 Photo by ross.grady
There is something about the rhythmic harmony of sounds in a song, the mood and blend of colors in a painting, and the silhouette of a sculpture that deeply resonates with our souls. Across different art forms, there is something about music that we have always felt we needed, spanning centuries and reaching every corner of the world. Perhaps this is why music has evolved into a multi-billion-dollar industry today.
So, what keeps our interest in this industry alive? There are many factors: the audience, the talent of the artists, promotion and advertising An Artist Portrait (Part One) - This is a fantastic article written exclusively for my Weblog by Frank V. Cahoj. Please feel free to comment here or send him emails. He'll be happy of this. An Artist Portrait (Part One) My name is Frank Cahoj and I have been an artist since I was born. I can say this in confidence without… , live performances, image, and more.
Music is also a form of commerce, and as the Greeks used to say, "advertising is the soul The Annals Of Blues Guitar - The blues is a genre of music that can be vocal, instrumental (blues …
...Read the rest.
"What Are The Important Things In Today's Music Industry?"