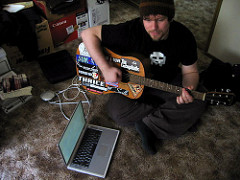 Photo by hfabulous
This post may be able to help more indie musicians understand some of the independent music distribution options that are available. The internet provides various smart choices and opportunities for them to share their creations with a global audience.
In the past, indie musicians had limited options for a large-scale release, usually limited to sending demos to a few popular indie labels of that time. These indie labels still exist in large numbers, and getting noticed by a reputable one can be a good way to gain recognition in the mainstream music industry What Is A Musician? - For some individuals, the role of a musician may be difficult to comprehend. They may struggle to understand: 1 - the nature of a musician's talent or job, 2 - why musicians work around the clock, and 3 - the concept of a fanbase and the boundaries musicians set with fans. Let's delve into each… . These labels often release high-quality albums that are on par with those released by major record labels.
There are several online companies emerging that allow artists to market their CDs and retain all their rights to the music. These companies, however, take a …
...Read the rest.
"A Much Need Look At Independent Music Distribution"