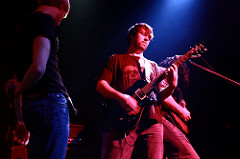 Photo by [stacy benton | photography]
When individuals decide to form a band, they usually have several goals they want to achieve. They may either wish to convey a message to the public or simply enjoy entertaining them through music. One of the initial tasks when starting a band is determining the genre of music they will play. While it is important for a music group to be versatile in different genres, they should primarily focus on one genre to establish their identity and showcase their performance.
Choosing the members of the band is a challenging task as it can be difficult to find individuals who share the same goals and outlook on life An Artist Portrait (Part Two) - This is the Part Two (and final part) of the true life story as artist written by Frank V. Cahoj for our Weblog. (Part One) An Artist Portrait (Part Two) I give an unbelievable amount of credence to these two early periods in my life: one of everlasting creation, one of analysis and disillusionment. The… . Each person is unique and has their own way of acting and thinking, which can take time for a band to form. It is …
...Read the rest.
"Starting Your Own Band"