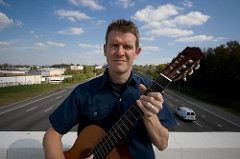 Photo by Dave Delaney
Learning guitar has become more accessible with the availability of intensive online guitar lessons. Additionally, there are instructional videos that demonstrate the finger movements and positioning.
One way to learn guitar quickly is to acquire a good quality guitar and keep it properly tuned. Each string should be in tune with the others. Practice until slow and clumsy movements become second nature.
Practice as often as you can. Regardless of who is teaching you or the amount of time you dedicate to practice, the more you practice, the faster you will learn. Practice is crucial if you want to learn to play the guitar quickly.
Alternate your fingertips in different ways and you will quickly discover the most efficient methods to transition between chords. This may require some practice, as the motion varies depending on the chords and the type of guitar you are playing.
Music is about passion and interest, so keep playing only if you enjoy it. Otherwise, your interest will fade, and you may give up learning to play the guitar.
Music instruction books are a time-honored approach to learning how to play the guitar. There are many books available for different styles. …
...Read the rest.
"Learn Guitar Fast – The Wonderful And Straightforward Approach To Fast Guitar Learning"