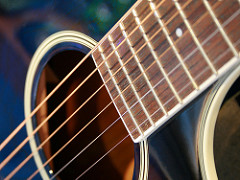 Photo by Jorge Franganillo
Sing-alongs at the beach, under the stars, campfires, and barbecues, those magical summer nights – all of these experiences are enhanced by the soulful music of the guitar. Whether played with fingers or a pick, while sitting or standing, the guitar is considered one of the easiest musical instruments to learn and the most portable to carry around. If you have ever desired to play the guitar, regardless of the genre of music, from classical to jazz, here are some key tips to learn the guitar quickly and easily as your starting guitar lessons.
To play the guitar well, it is important to assume the correct posture. This will make playing easier and help prevent injuries. The guitar can be played while sitting or standing. When sitting, there are two basic positions: the classical position (with the guitar resting on your left leg) and the casual position (with the guitar resting on your right leg).
When playing the guitar while standing, securely fit the guitar strap over your shoulder, hold the guitar neck with your left hand, and rest your right hand over the guitar's bridge. Find a comfortable position with your guitar; this will help …
...Read the rest.
"Learn Guitar Fast and Easy"