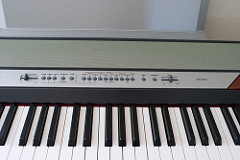 Photo by Joe Wilcox
If you're a musician What Is A Musician? - For some individuals, the role of a musician may be difficult to comprehend. They may struggle to understand: 1 - the nature of a musician's talent or job, 2 - why musicians work around the clock, and 3 - the concept of a fanbase and the boundaries musicians set with fans. Let's delve into each… , then I believe you would definitely want to ensure that you can play all of your music using high-quality instruments. We all know that finding such instruments easily available can be challenging, especially when it comes to affording a superior instrument. Therefore, if you're someone who is looking for a keyboard that performs exceptionally well, then you should consider the Korg SP250.
If you're unfamiliar with Korg, it's important to know that they have been offering keyboards to customers worldwide for a long time now. Many of their products have received numerous awards for their quality and uniqueness. So, if you want to learn more about Korg, all you need to do is read the Korg SP250 review.
For those who prefer the keyboard to emulate an acoustic piano, you'll find …
...Read the rest.
"Is the korg sp250 something you should buy?"