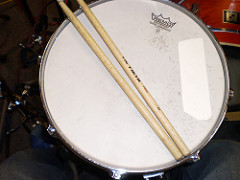 Photo by therealjohnsimpson
So, you've just purchased your very first drum set kit and you want to learn how to play drums. Or maybe you don't have your own drum set yet but still have the passion to learn drums. Don't worry! You can still learn how to play drums by yourself with just two sticks and a practice pad. You also need the right resources to help you learn the instrument effectively. Learning to play drums is quite easy, and you may not even need a drum set when you're just starting out.
Easy Ways to Learn to Play Drums!
The first thing you need to learn when playing the drums is counting. You must understand how to count the beats in each play. The most common and simple rock A Finnish music story - Musician Matti Mattila wrote his story for us, a Finnish music story! Please read also his Finnish blog and check his page at LinkedIn. I named this article "A Finnish music story" because through Matti words we can know an exclusive tale about late 70's and 80's of Finnish music. Of course the personal thoughts… drumming beats are found in the time signature of …
...Read the rest.
"Learn To Play Drums on Your Own!"