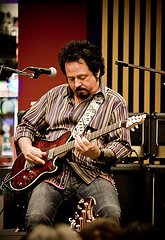 by
Jacek Sniecikowski
Bikers have cultivated a unique culture of their own, which has led to a number of misconceptions that are often inaccurate and sometimes downright disrespectful. In the 1950s and 60s, bikers were depicted as violent thugs and troublemakers. Contrary to popular belief, very few bikers are actually involved in notorious motorcycle gangs. In more recent years, tattoos have become closely associated with bikers. It's hard to attend a rally without noticing tattoos adorning a large portion of the crowd, ranging from simple designs to intricate, large-scale body art. These artistic expressions have become an integral part of motorcycle culture, contributing to the rise in the number of celebrity tattoo artists.
One of the most famous tattoo artists in the world, Kat Von D, gained prominence in recent years. She first entered the public eye on The Learning Channel's Miami Ink series. Following her departure from the show, she opened her own shop and starred in LA Ink, which currently airs on TLC. Kat began her career Darklands, a Classic RPG - I'll talk about Darklands, a Classic RPG in a moment. April is an excellent month to reflect on how the year is going and whether we have achieved all or some of the goals we set for ourselves (Read - Overcoming Procrastination). It's also a time to assess the overall positive or negative trend of… as a tattoo artist An Artist Portrait (Part One) - This is a fantastic article written exclusively for my Weblog by Frank V. Cahoj. Please feel free to comment here or send him emails. He'll be happy of this. An Artist Portrait (Part One) My name is Frank Cahoj and I have been an artist since I was born. I can say this in confidence without… at just 16 years old, honing her skills over the years before striking out on her own. Her ascent to fame and fortune has allowed her to explore other aspects of the industry, including a specialized tattoo cover-up makeup line. Kat recently released a book For Game Design - Andrea Angiolino was born the 27th of April, 1966 in Rome, the city where he still lives. He published many boardgames and books about games, besides developing games for every media. His works appeared in more than a dozen of languages including Korean, Czech and Maltese. He is a game journalist on national magazines, newspapers,… titled "High Voltage Tattoo," which documents her work and journey through the world of body art. Those wishing to be tattooed by Von D should plan well in advance and be prepared to spend a significant amount of money.
Another notable figure in the tattoo and motorcycle world is Carey Hart. Many people are familiar with Hart due to his impressive performances in extreme motocross sports. He initially made his fortune racing dirt bikes. Hart decided to pursue his passion for tattoos and partnered with friend John Huntington to open a shop in Las Vegas, Nevada. This shop, Hart & Huntington, is the subject of the television Cereal, a blend of old and new - Today we interview Jaques Smit, an incredible man. Just read all his current positions: Managing Director at MindNova Advertising Pty (Ltd), Marketing Director at Inland Kitesurfing Pty (Ltd), CEO at Avonstorm Entertainment, Producer at Avonstorm Pictures Pty (Ltd), Technical Director at Blo-Tant Pty (Ltd). Here is the interview and I initially ask about Cereal, his… show Inked, which airs on A&E. The show has been highly popular and features a diverse group of artists. Hart & Huntington caters to a luxurious celebrity clientele, but everyday people also visit the shop seeking tattoos. If you plan on going to the shop, be prepared to spend a considerable amount of money, as their team doesn't come cheap.
Manuel Marino is a seasoned Senior Producer, Music Composer, and Artist with over a decade of experience. He specializes in branded entertainment across various mediums, including video games, films, and advertising campaigns. With 20+ years as a game music composer, Manuel has worked on numerous platforms, creating diverse orchestral soundtracks. HIRE ME