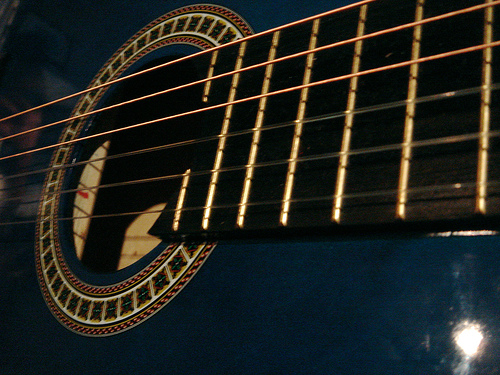 The blues is a genre of music that can be vocal, instrumental (blues guitar), or both. It primarily uses the 'blue' notes, which are based on a 'minor pentatonic' scale, also known as the blues scale.
Blues music originated in African-American communities in the U.S., drawing from work songs, spirituals, field hollers, chants, shouts, and simple ballads with rhyming lyrics. Many elements of the blues reflect African influences.
The call-and-response aspect of the music has its roots in African traditions, with numerous lines being repeated two or more times. This later evolved into a pattern where a line was repeated twice, followed by an 'answer line' on the third repetition. These characteristics of early blues can still be found in modern music, particularly hip-hop.
The term 'The Blues' refers to the 'blue devils,' meaning feelings Artists Psychology - Here's an interesting exclusive article Roland d'Humières, 56 years old psycho-analyst from Aix en Provence (France) has written for our Weblog. I think it to be a very interesting writing about the artists psychology, or maybe "arts psychology", what's behind an artists mind. Artists Psychology Whatever is his/her Art, painting, music, dance, writing, or any… of sadness or melancholy.
Blues guitar plays a significant role in blues music and has greatly influenced jazz, rhythm and blues, bluegrass, and rock A Finnish music story - Musician Matti Mattila wrote his story for us, a Finnish music story! Please read also his Finnish blog and check his page at LinkedIn. I named this article "A Finnish music story" because through Matti words we can know an exclusive tale about late 70's and 80's of Finnish music. Of course the personal thoughts… 'n' roll.
The early 1900s blues, also known as "poor man's blues," often dealt with themes of hardship, oppression, cruelty, gambling, economic depression, natural disasters, magic, farming, and drought. This music was fueled by heartache and despair, with lyrics and the tone of the blues guitar often inspired by lost loved ones or harsh living conditions.
After World War II, blues music began to focus on themes of relationships and sex, with humor occasionally being incorporated into the songs.
The blues guitar style emerged from the American South's instruments of the time, such as the banjo About Country Music - For a long time in the 21st century, country music played a minor role within the pop music scene.Shortly after World War II, many new radio stations in urban areas focused primarily on country music, often accompanied by local advertising. In the 1930s, country music's status was consolidated in the mainstream pop music landscape. The… and Diddley Bow, a homemade one-stringed instrument popular in the early 20th century. Musicians like Robert Johnson, Charley Patton, Son House, and Blind Willie McTell were part of the delta blues style that employed various finger-picking techniques and slide guitar innovations.
Following WWII, 'electric blues' gained popularity, with the blues guitar and bass guitar Learning to Enjoy Bass Guitar - Do you enjoy bass guitar? A bass guitar is a four-stringed instrument that typically accompanies a lead guitar. Some bass guitars have additional strings, with 5 or 6 strings in total. Bass guitars produce lower tones, and an electric bass guitar is connected to an amplifier for enhanced sound. When learning to play the bass… being played on electric instruments, especially in the Chicago area.
Today, blues music has become a multicultural genre, with artists playing the blues all around the world. Texas-born Stevie
Ray Vaughan set the music world ablaze with his modern fusion of blues and rock until his untimely death in 1990. Other contemporary blues artists making their mark include Shemekia Copeland, Susan Tedeschi, Robert Cray, Taj Mahal, Charlie Musselwhite, and the North Mississippi Allstars.
The history of blues guitar and poor man's blues is rich with culture and stories of both good and bad times. The story An Artist Portrait (Part Two) - This is the Part Two (and final part) of the true life story as artist written by Frank V. Cahoj for our Weblog. (Part One) An Artist Portrait (Part Two) I give an unbelievable amount of credence to these two early periods in my life: one of everlasting creation, one of analysis and disillusionment. The… of the blues guitar could be continued at great length, but let's consider this as part one to keep the reader engaged.
Manuel Marino is a seasoned Senior Producer, Music Composer, and Artist with over a decade of experience. He specializes in branded entertainment across various mediums, including video games, films, and advertising campaigns. With 20+ years as a game music composer, Manuel has worked on numerous platforms, creating diverse orchestral soundtracks. HIRE ME