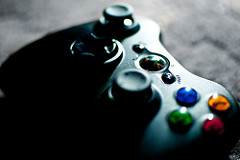 Photo by wizzer2801
The Xbox Kinect is a relatively new gaming system that has quickly gained popularity among gamers. If you're a true gamer, chances are you already have it in your home. Sales for the Kinect are still going strong, and more and more games Darklands, a Classic RPG - I'll talk about Darklands, a Classic RPG in a moment. April is an excellent month to reflect on how the year is going and whether we have achieved all or some of the goals we set for ourselves (Read - Overcoming Procrastination). It's also a time to assess the overall positive or negative trend of… are being released for this fantastic gaming device, capturing the interest of a growing number of people.
Perhaps you already own a Kinect and, like me, you're an avid gamer who wants to play as many games as possible. In the next few minutes, let's take a look at some of the top games available for the system.
Two of the most popular games on the Kinect are Kinect Sports and Dance New Album - Lost Island - I'm excited to announce the release of my latest Trance music album, "Lost Island". It's now available on various digital outlets worldwide, so you can easily find it by doing a quick search on any search engine! But if you're short on time and don't want to go through the hassle of searching, browsing, and… Central. These games have both received an impressive 9.2 rating upon review, which is outstanding. With the Kinect, you'll use your body as the controller, eliminating the need for wires and gamepads that tend to break easily. Whether you're playing sports like volleyball or engaging in a dance-off, you're guaranteed to have a lot of fun!
There are numerous games available for the Kinect, and you'll definitely have a great time playing them. From sports games like basketball, baseball, tennis, and boxing, to various other genres, you can search for the types of games you enjoy the most.
Keep in mind Self-realization and meditation (yoga for the mind) - Peter Cajander allowed us to publish this part from his book Fragments of Reality. It talks about life from a personal perspective covering areas ranging from self-realization, meditation, stress, happiness, death, and everyday living. Peter is a writer, philosophical thinker, entrepreneur, strategy consultant, business executive, and author to name a few titles. He has been… that there is a list of upcoming games for the Xbox 360, including the Kinect, which will be released in the coming months. I won't spoil anything by revealing details, but I can tell you that Dance Central is a game For Game Design - Andrea Angiolino was born the 27th of April, 1966 in Rome, the city where he still lives. He published many boardgames and books about games, besides developing games for every media. His works appeared in more than a dozen of languages including Korean, Czech and Maltese. He is a game journalist on national magazines, newspapers,… that has captivated millions of players. Not only will it teach you how to dance, but it will also help you stay fit. You'll be amazed at how skilled of a dancer you can become once you dive into it.
Another game you're likely to love Artists Psychology - Here's an interesting exclusive article Roland d'Humières, 56 years old psycho-analyst from Aix en Provence (France) has written for our Weblog. I think it to be a very interesting writing about the artists psychology, or maybe "arts psychology", what's behind an artists mind. Artists Psychology Whatever is his/her Art, painting, music, dance, writing, or any… is Kinectimals. It's a fantastic family game that can be enjoyed by kids aged between 5 and 15 years old. In this game, you get a small creature that you need to care for, nurture, and teach various things. And who knows, maybe the upcoming Kinect games in 2011 will be even cooler than the ones available now. The future holds exciting possibilities!
Manuel Marino is a seasoned Senior Producer, Music Composer, and Artist with over a decade of experience. He specializes in branded entertainment across various mediums, including video games, films, and advertising campaigns. With 20+ years as a game music composer, Manuel has worked on numerous platforms, creating diverse orchestral soundtracks. HIRE ME